California, Groundbreaking Bill to Help Puppy Mill Dogs Needs You!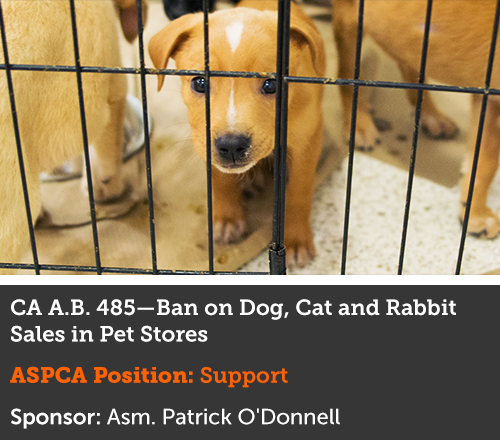 A.B. 485, landmark legislation that would strike a major blow to the puppy mill industry, has passed! California could soon make history as the first state in the country to enact this ban. All we need now is Governor Jerry Brown's signature.
The ASPCA has long been a strong and consistent advocate for ending the cruel breeding practices found in puppy mills. One way to accomplish our goal is by cutting off a primary link in the supply chain: the pet stores that supply commercially bred puppies, kittens, and rabbits to the market. The ASPCA has engaged in efforts at the local level to enact similar ordinances in cities and counties across the U.S., and we have been working closely with Assembly Member O'Donnell to ensure this bill will have the greatest impact and set the strongest possible precedent for other states to follow suit.
To date, 36 diverse municipalities in California—ranging from rural Sierra and Central Valley towns to large cities—have enacted similar ordinances. Those cities did so to take a stand against allowing cruelly-bred animals to be sold in their communities. Enactment of A.B. 485 will mark the first time an entire state has elevated these important local protections to mill-bred animals.   
 
What You Can Do
Please use the form below to quickly email Governor Brown and urge him to sign A.B. 485 into law.
Thank you, California.