Los Angeles, Keep Pets and Families Together!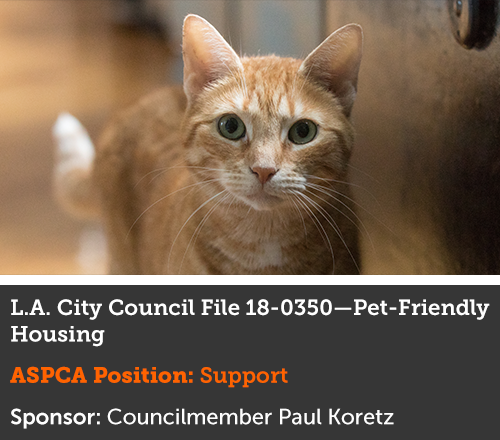 Update—September 4, 2018:  We have good news! The L.A. City Council approved this motion by a 13-0 vote. We want to thank everyone who attended the public hearing on Council File 18-0350 and wrote to their council member on this humane issue. Your voice made a huge difference! 
A lack of access to pet-friendly housing can require pet owners to grapple with an impossible decision: either give up their pet or have a roof over their head. While this painful scenario can be difficult to imagine, it is often a grim reality for those with few housing options or special housing needs.
Fortunately, a motion (Council File 18-0350) to create more pet-friendly housing in Los Angeles will be considered by the City Council soon. The proposed action would help many households to avoid this grim decision by requiring all housing financed by the city's Housing and Community Investment Department to be pet-friendly.
A national study conducted by the ASPCA revealed that those who rent are more likely to need to rehome their pets for housing issues than for any other reason. Between 2011 and 2015, 23% of all dog surrenders and 19% of all cat surrenders in L.A. were due to a lack of pet-friendly housing options. This adds up to nearly 30,000 dogs and cats being surrendered to shelters each year for housing issues in Los Angeles alone!
There is no reason that people willing and able to care for their pets should be forced to part with them due to a lack of housing options.
If passed, this motion could help ensure that pets and people stay together and that housing is no longer an impossible barrier for families, low-income individuals or the homeless who love and care for their pets.