California, Thank Gov. Newsom for Protecting Victims of Violence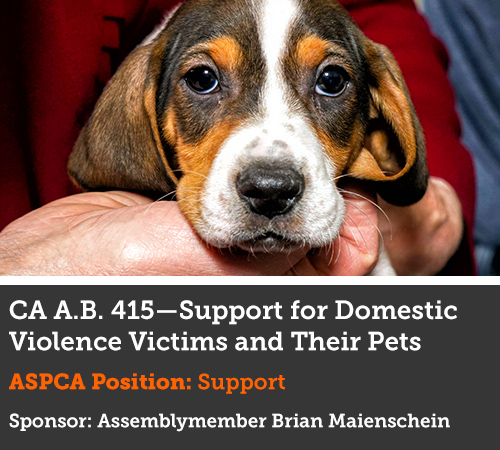 Update—October 9, 2019: Governor Newsom signed A.B. 415 into state law yesterday. This new law removes housing barriers to enable victims of domestic violence and their pets to escape harm's way. Thank you, Californians, for all your help and support over the course of this legislative session!
There is a well-documented link between domestic violence and animal abuse. Perpetrators of domestic violence often threaten harm or bring actual harm to their victims' pets in order to control their victims or keep them from leaving an abusive relationship. Fear for a pet's safety is a significant reason why victims of domestic violence delay leaving—studies indicate that more than 25% of domestic violence victims stay in abusive relationships for a median time of two years to avoid leaving their pets behind.

To protect their pets while escaping abuse, survivors of domestic violence must find alternative housing that accepts pets. Too often, the short-term urgency and a lack of financial resources significantly limits their options.

California Assembly Bill 415 would address these issues by providing reimbursement for short-term kenneling, pet deposits and additional rent ("pet rent") for permanent housing through the California Victim Compensation Board.

Providing resources that enable victims to leave abusive situations is crucial to promoting the safety and welfare of the people and animals at risk—and is essential to avoiding the risk of future violence against both.

What You Can Do
Use our easy form below to thank Governor Newsom for signing A.B. 415 into law today.