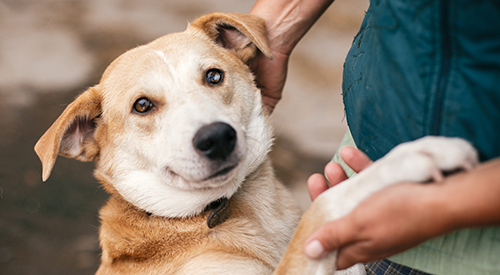 CA A.B. 1399—Veterinary Telemedicine
CA A.B. 781—Disaster Preparedness and Sheltering
ASPCA Position: Support
Update—September 14, 2023: Exciting news: Two important bills for people with pets just PASSED the California State Legislature!
California's veterinary telehealth bill (A.B. 1399) and its disaster preparedness and sheltering bill (A.B. 781) passed both chambers with overwhelming support. Now they are headed to Governor Newsom, and we need your help to keep the momentum going.
California's Veterinary Telehealth Bill
Assembly Bill 1399 will remove unnecessary barriers that restrict access to virtual veterinary care in the Golden State.
California is a leader in technological innovation, but surprisingly it is one of the most restrictive states in the country for the use of veterinary telemedicine. Amidst a veterinary workforce shortage and long waits for vet appointments, A.B. 1399 will increase access to care across California by expanding access to veterinary telehealth. People are taking advantage of virtual appointments for their own medical care, and it's time for California to allow the benefits of this technology to apply to our pets. This bill will be a lifeline for pet owners who live in remote or underserved areas or face other obstacles to care, like transportation or mobility challenges, difficulty getting time off from work or having pets who are stressed by visits in the clinic.
California's Disaster Preparedness and Sheltering Bill
Assembly Bill 781 will help families with pets stay safe during natural disasters and extreme weather events. This bill will require local governments to designate pet-friendly sheltering sites so families have a safe and comfortable place to go during extreme weather events.
There are not enough public shelters in California that accommodate pets, and this has negatively impacted families with pets during natural disasters and extreme weather events, putting residents and first responders at risk. Those who are denied shelter with their pets may refuse evacuation, threatening their own safety and that of first responders. This bill could help prevent many potentially life-threatening situations and ensure that no Californian is forced to choose between seeking safety and staying with their beloved pet.
How You Can Help
Please use the form below to send a pre-drafted message to Governor Newsom urging him to sign both bills (A.B. 781 and A.B. 1399) into law.