California: Farm Animals Urgently Need Your Help in 2018!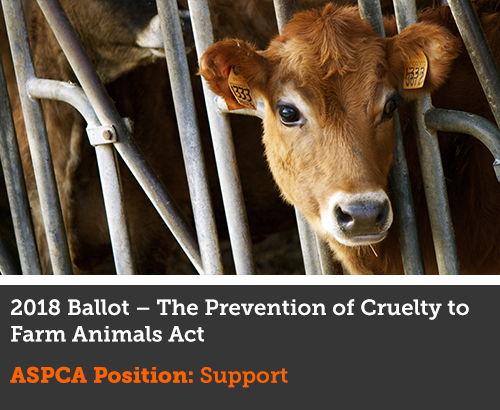 Update—June 25, 2018: We hit a major milestone in farm animal protection: The Prevent Cruelty California Coalition, which includes the ASPCA along with The Humane Society of the United States, San Francisco SPCA, Center for Food Safety, San Diego Humane Society and many others, announced that Secretary of State Alex Padilla has certified its anti-cruelty act for the statewide ballot this November. It will appear as Question 12. Be on the lookout for updates on how to get the word out on "Yes on 12!" 
The ASPCA is part of Prevent Cruelty California, a coalition of animal welfare organizations, farmers and veterinarians working to enact a ballot measure that would change the lives of countless farm animals across the nation.
When you go to vote on November 6, 2018, you'll also have the chance to vote YES on rejecting some of the worst forms of farm animal cruelty.
In California, it is illegal to cram veal calves, egg-laying hens and mother pigs into cages so small they can hardly move an inch. But cruel animal-confinement systems are still commonplace at industrial-style factory farms outside the state. Question 12 would expand California's current sales ban on caged-eggs to include pork and veal products, as well as strengthen the standards for what qualifies as "cage-free" eggs allowed for sale in the state.

Prohibiting the importation of animal products that were produced using these barbaric and unsafe methods protects farm animals as well as California consumers who don't want to support such cruel practices.
 
What You Can Do
No animal deserves a life in a cage, and even just a few hours of your time can make a huge difference in determining whether California stops supporting these unnecessarily cruel and antiquated practices. Please considering joining our efforts today.
A few impactful ways you can support this campaign include:
Make sure you are registered to vote. The last day to register is October 22! You an learn more and find out if you're registered to vote by visiting the Secretary of State's Voter Registration page. 
 
Get involved! If you'd like to get involved, please email grassroots@aspca.org with your full contact information, including your name and hometown. If you're interested in submitting a letter to the editor in your local newspaper or phone banking, let us know and we'll get you set up.
 
Join us for a campaign event near you! Stay tuned for more information.
We are here to guide you through all of these actions so don't feel intimidated if you've never submitted a letter to the editor or made phone calls to encourage folks to vote! We'd love to work with you to help improve the lives of farm animals. If you have any questions or are interested in learning more, please email grassroots@aspca.org.

Paid for by The American Society for the Prevention of Cruelty to Animals.