California: Vote YES on Prop 12 on November 6!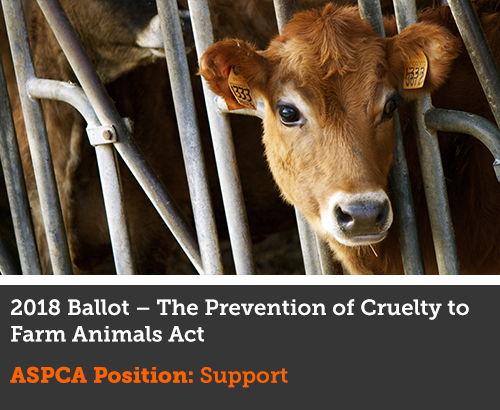 Update—November 8, 2018: Amazing news, advocates! On November 6, California voters approved Proposition 12 with over 60% of the vote. The measure will require cage-free housing, more space for factory farmed veal calves, mother pigs and egg-laying hens, and mandate that any veal, pork or eggs produced elsewhere and imported into the state must come from farms meeting these higher-welfare standards by December 31, 2021. You can read more about Prop. 12 and our other Election Night victories here.
In California, it is illegal to cram veal calves, egg-laying hens and mother pigs into cages so small they can hardly move an inch. But cruel animal-confinement systems are still commonplace at industrial-style factory farms outside the state. Proposition 12 would expand California's current sales ban on caged-eggs to include pork and veal products, as well as strengthen the standards for what qualifies as "cage-free" eggs allowed for sale in the state.
Prohibiting the importation of animal products that were produced using these barbaric and unsafe methods protects farm animals as well as California consumers who don't want to support such cruel practices.
 
Paid for by The American Society for the Prevention of Cruelty to Animals.