California: Farm Animals Need Your Help in 2018!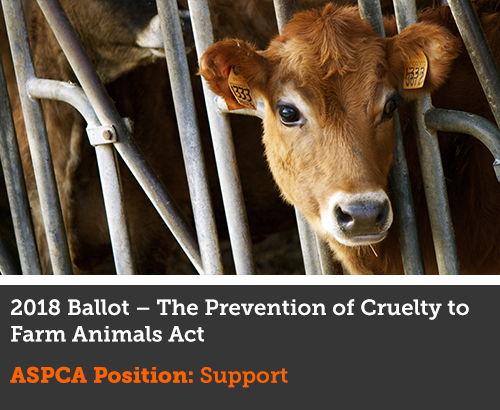 We're excited to announce that the ASPCA has joined Prevent Cruelty California, a coalition of animal welfare organizations, farmers and veterinarians working to enact a ballot measure that would change the lives of countless farm animals across the nation.
Instead of a bill that must be passed by the state legislature, our goal is to put this measure right in front of you, the people of California, as part of the 2018 ballot. When you go to vote on November 6, 2018, you'll also have the chance to vote YES on rejecting some of the worst forms of farm animal cruelty.
In California, it is illegal to cram veal calves, egg-laying hens and mother pigs into cages so small they can hardly move an inch. But cruel animal-confinement systems are still in wide use at industrial-style factory farms outside the state. Following the trail blazed last year by the State of Massachusetts, the Prevention of Cruelty to Farm Animals Act would prohibit the importation of animal products that were produced using these barbaric and antiquated methods.  
 
What You Can Do
If you're interested in helping us create a better world for farm animals, please attend one of the kickoff meetings listed below to learn how you can get involved. If you can attend a meeting, please RSVP here.
Downtown Los Angeles: Saturday, November 11, at 2 P.M.
San Diego: Sunday, November 12, at 2 P.M.
San Francisco: Monday, November 13, at 6 P.M.
San Jose: Tuesday, November 14, at 5:30 P.M.
Santa Barbara: Thursday, November 16, at 6 P.M.
Anaheim/Orange County: Sunday, November 19, at 4 P.M.
Burbank: Tuesday, November 28, at 6 P.M.
Ventura: Wednesday, November 29, at 6 P.M.
Marin County: Thursday, November 30, at 6 P.M.
Riverside: Saturday, December 2, at 2 P.M.
West Hollywood: Thursday, December 7, at 6 P.M.
No animal deserves a life in a cage, and even just a few hours of your time can make a huge difference in whether we end these unnecessarily cruel and antiquated practices in California.
If you have any questions or are interested in learning more, but are unavailable to attend a kickoff meeting, please email grassroots@aspca.org.

Paid for by Prevent Cruelty California, Sponsored by The American Society for the Prevention of Cruelty to Animals, Major Funding by The Humane Society of the United States.