Boston, MA: Sustainable Food Will Mean Better Lives for Animals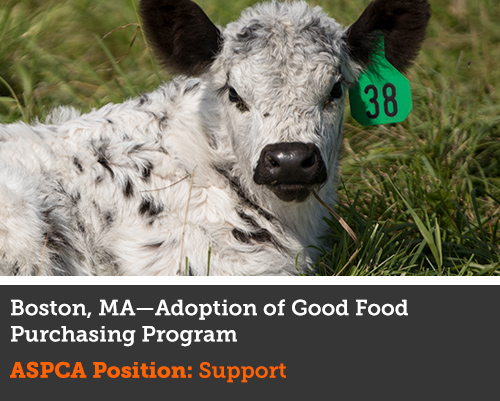 Update—March 20, 2019: Good news! On Wednesday, March 20, the Boston City Council voted unanimously to adopt the Good Food Purchasing Program (GFPP). We want to thank everyone who spoke up on behalf of this important initiative. You can learn more about Boston commitment to More humane food purchasing here.
In addition to our work with producers, retailers and restaurants, the ASPCA is working in cities and counties around the country to help public institutions source higher-welfare and more responsibly produced, sustainable food through the Good Food Purchasing Program (GFPP).
The Boston City Council is currently considering whether to adopt the GFPP, which would commit the city to sourcing better food that meets specific requirements, including higher welfare standards for farm animals along with sustainability, fair labor standards, local sourcing and nutrition criteria.
Between its schools and other public institutions, the Boston government serves thousands of meals each day and, as a large-scale buyer of animal products, this small shift in purchasing policy can help improve the treatment of animals raised for meat, eggs and dairy.
Other major cities and school systems like Los Angeles, San Francisco, Chicago, Washington, D.C., and Cincinnati have already adopted this humane program.