Boston, MA: Sustainable Food Will Mean Better Lives for Animals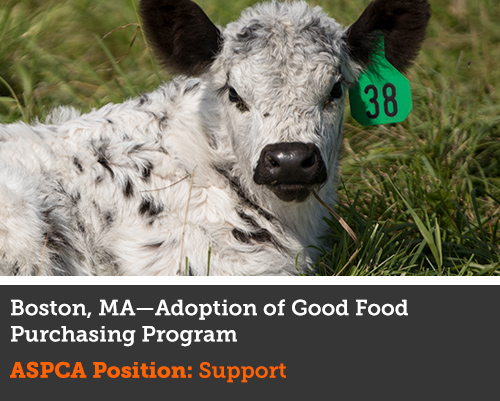 In addition to our work with producers, retailers and restaurants, the ASPCA is working in cities and counties around the country to help public institutions source higher-welfare and more responsibly produced, sustainable food through the Good Food Purchasing Program (GFPP).
The Boston City Council is currently considering whether to adopt the GFPP, which would commit the city to sourcing better food that meets specific requirements, including higher welfare standards for farm animals along with sustainability, fair labor standards, local sourcing and nutrition criteria.
Between its schools and other public institutions, the Boston government serves thousands of meals each day and, as a large-scale buyer of animal products, this small shift in purchasing policy can help improve the treatment of animals raised for meat, eggs and dairy.
Other major cities and school systems like Los Angeles, San Francisco, Chicago, Washington, D.C., and Cincinnati have already adopted this humane program. Boston is next in line to take this huge step forward for animal welfare, but we need your help.
 
What You Can Do
Will you please take these two quick actions today to let your Councilor and at-large Councilors know that you support the Good Food Purchasing Program:
1. Find out who represents you on the Council. If you don't know your district number or the name of your Boston City Councilor, you find them by entering your address here. 
2. Email a message of support. Using your personal email account, send your Councilor an email urging him or her to support the Good Food Purchasing Program ordinance and to bring it to an immediate vote. You may use/edit the pre-drafted message below, and you can find your Councilor's contact information here. In addition to your Councilor, please be sure to copy your three at-large Councilors, Michael Flaherty (Michael.F.Flaherty@Boston.gov), Althea Garrison (Althea.Garrison@Boston.gov) and Annissa Essaibi-George (A.E.George@Boston.gov), on the email as well.
Dear [Councilor's name],
I am a Boston resident who cares about our food system, including the treatment of farm animals. Animals raised for meat, milk and eggs deserve humane treatment. I want the City of Boston to source food that allows for better farm animal treatment by adopting the Good Food Purchasing Program (GFPP). Please support the proposed ordinance to adopt GFPP, and bring this to a City Council vote.
Name
Address
Thank you, Boston!