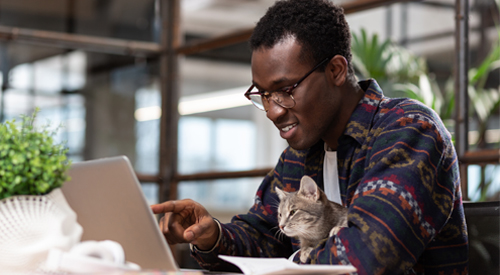 AZ S.B. 1053—Veterinary Telemedicine
ASPCA Position: Support
Sponsor: Senator T.J. Shope
Arizona legislators have introduced a state bill that would expand access to veterinary care in the Grand Canyon state. Senate Bill 1053 would enable veterinarians to use technology to deliver safe and effective veterinary appointments. Virtual vet care—a.k.a. telemedicine—allows veterinarians to reach far more animals in need and is a valuable tool for those seeking care for their furry family members.
People of all ages are taking advantage of virtual appointments for their own medical care, and it's time for Arizona to allow the benefits of this technology to extend to our pets.  
Why Virtual Veterinary Care Is Important
If your pet has ever become ill overnight when most veterinary clinics are closed, you know how vital it is to be able to connect with a licensed veterinarian quickly. Telemedicine not only makes vet care more accessible in situations like this, it also benefits a wide range of people and pets. Video calls with vets from the comfort of a pet's home can offer safe and convenient vet care for a wide range of ailments and preventive services. 
Veterinary telemedicine is a lifeline for pet owners who live in remote or underserved areas, struggle to afford vet care, or who face other obstacles to care such as a demanding work schedule that conflicts with normal clinic hours. Pets who are frightened of going to the vet, potentially aggressive, large or difficult to transport can benefit immensely from better access to virtual veterinary care.
Furthermore, the veterinary industry is facing a critical shortage of professionals in the workforce, and families in Arizona are struggling to access care for their pets. As we have seen in human medicine, telemedicine can bridge gaps in care caused by workforce shortages or other barriers to healthcare access. To ensure that virtual veterinary care is accessible in Arizona, we need your voice today! 
What You Can Do
Please use the form below to email your state lawmakers TODAY and urge them to advance S.B. 1053 to expand access to virtual veterinary care in Arizona.