USA: Don't Let the USDA Hide Abuse! End the Animal Welfare Info Blackout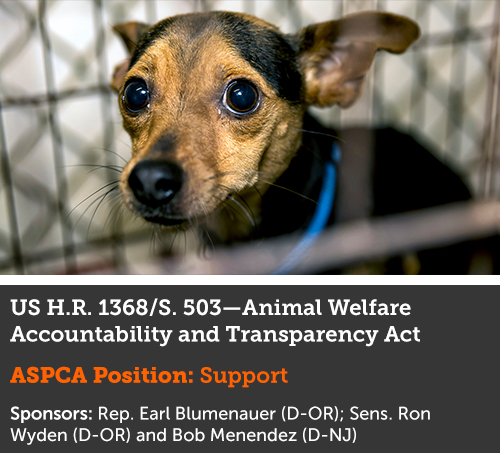 On February 3, 2017, the USDA's Animal and Plant Health Inspection Service (APHIS) reversed a decade-long commitment to transparency when the inspection documents of federally regulated animal facilities—including zoos, commercial pet-breeding kennels, certain horse trainers and research labs—were taken offline.

Until now, the reports were available to anyone with internet access. Animal welfare advocates, state and local governments, and consumers had long relied on this information to track animal cruelty in their communities.

The ASPCA was shocked by USDA's actions, and so was the American public. Your tax dollars pay for these inspections, so there's no reason this documentation should be hidden. By denying public access to this information, APHIS is gifting animal abusers the cloak of anonymity.

In recent weeks, the USDA has slowly reposted select documents to its public website, but has given no indication as to when—or if—inspection reports of puppy mills in particular will be reposted.
The newly introduced Animal Welfare Accountability and Transparency Act would compel the USDA to restore open, online access to its animal welfare enforcement and inspection information. The bill would also prevent violators of the Animal Welfare Act (AWA) and the Horse Protection Act (HPA) from claiming certain tax benefits, ensuring that taxpayers aren't further subsidizing animal cruelty.
 
What You Can Do
Animal abuse should never be hidden from the public eye. It's time for Congress to pass the Animal Welfare Accountability and Transparency Act to restore public access to animal welfare information.

Use the form below to email your senators and representative in Washington, D.C., and urge them to cosponsor the Animal Welfare Accountability and Transparency Act. If any of your members of Congress are already cosponsors, our system will instead generate a message of thanks.