Atlanta, Ban Puppy Mill Sales in Your City!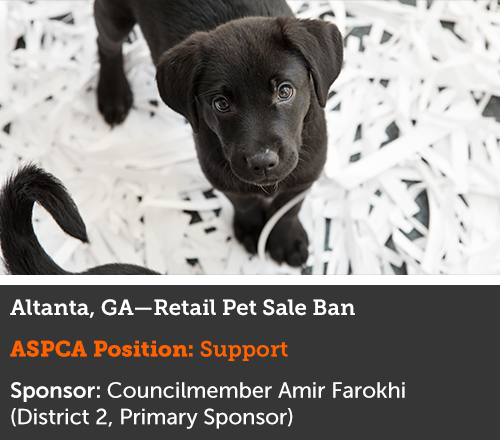 Update—November 14, 2018: We are pleased to report that the measure to prohibit the retail sale of dogs and cats in Atlanta's pet stores was passed by the Atlanta City Council and approved last night by Mayor Keisha Lance Bottoms. It goes into effect immediately. Great job, Atlanta!
The City of Atlanta is poised enact a new law prohibiting the retail sale of pets; this would be a historic decision that could improve the lives of suffering animals trapped in the cruel commercial breeding industry. Hundreds of other towns and cities in the U.S. and Canada have already passed similar retail pet sales bans—Atlanta should be next!
Most puppies sold in pet stores come from commercial breeding operations, which are designed to prioritize profit over the health and welfare of animals. Dogs at these facilities are often kept in crowded, unsanitary conditions without adequate access to veterinary care, food, water or socialization. Dogs kept captive in these conditions produce puppies who may suffer health and behavioral problems that are not often disclosed to buyers–often leaving the people who buy these puppies left to bear financial loss and heartbreak.
If this legislation becomes law, it would keep cruelly bred puppies out of Atlanta's pet stores for good.