Alabama: Protect Puppies & Your Town's Rights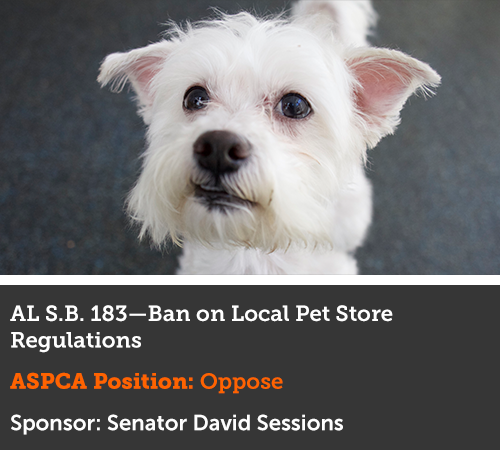 Bad news, advocates. Last week a bill that could permanently STOP Alabama's communities from enacting local protections for puppies and their parents in puppy mills was introduced and is now fast-tracking its way through the Alabama Legislature. We are deeply concerned about it and you should be too.
As you may know, most puppies sold in pet stores come from puppy mills puppy mills, cruel breeding facilities that prioritize profit over the health and well-being of animals. Dogs in these operations are often kept in overcrowded and unsanitary conditions without adequate veterinary care, food, water or socialization.
Nearly 300 cities and towns across the country—including Huntsville and Athens—have already taken a stand against cruel breeding by passing ordinances to keep the puppies produced by this inhumane industry out of their pet stores.
If passed, Senate Bill 183 would strip Alabama's towns and cities of the authority to prohibit the sale of puppy mill-bred dogs in the future and nullify the laws put in place by Huntsville and Athens, leaving more dogs to suffer in squalid conditions.
What You Can Do
This bill could be voted on any day now by the Senate Agriculture Conservation and Forestry Committee, so don't delay. Please take these two quick actions today:
1. Call your state senator and ask him or her to oppose Senate Bill 183. If you don't know who represents you in the Alabama Senate, you can find your lawmaker's name and phone number here.
2. Send a follow-up email to your state senator with the same message of opposition by filling out the form below.
Have questions or want to get more involved in stopping this bill? Please email grassroots@aspca.org.
Thank you, Alabama.