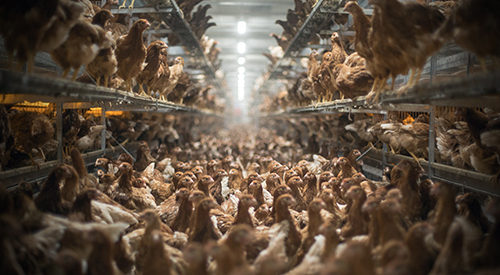 U.S. S. 5138—Industrial Agriculture Accountability Act
ASPCA Position: Support
Sponsor: Senator Cory Booker (D-NJ)
Most meat, eggs and dairy produced in the United States comes from Concentrated Animal Feeding Operations (CAFOs), also known as factory farms. These huge, industrial complexes are controlled by a handful of multinational corporations. They use their power to cut costs and maximize profits however they can, disregarding the catastrophic impact on animals, workers, farmers, surrounding communities and the environment.
The Industrial Agriculture Accountability Act (U.S. S. 5138) aims to hold big corporations accountable for the damage they've done and prevent future harm.
Learn More
The Act would:
Require large corporations to register their high-risk factory farms, submit disaster preparedness plans and pay the costs of preparing for and responding to disaster events.
Hold large corporations accountable for their destruction to surrounding communities and the lives of farm workers and contract farmers.
Prohibit large corporations from using the worst depopulation and slaughter practices, including ventilation shutdown and extreme slaughter line-speeds.
Pass new requirements for more humane transport and slaughter, including phasing out cruel live-shackling of chickens and turkeys.
Provide funding to support the transition to higher-welfare systems.
What You Can Do
Please use the form below to send a pre-drafted email to your U.S. senators urging them to cosponsor and support the Industrial Agriculture Accountability Act. If either are already a cosponsor, our system will instead generate a "thank you" message.