USA: Support Animal Welfare Provisions in Appropriations Legislation!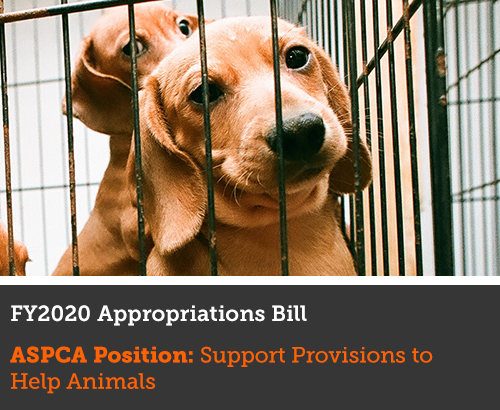 Update—October 17, 2019: Measures to protect animals are advancing in Congress—but we still need your help. In June, the U.S. House of Representatives approved a government funding package that contains important victories for horses, dogs in puppy mills, and pigs heading to slaughter. We need your voice to ensure that all three of these pro-animal provisions remain in the final bill.
Puppy Mill and Horse Inspections: Requirements that the USDA repost all Animal Welfare Act and Horse Protection Act inspection and enforcement reports that were formerly available on its website, and post new reports going forward. The final bill can strengthen this language by ensuring that USDA inspectors are capturing all violations in their inspection reports.
 
Horse Slaughter: A prohibition on funding for the operation of horse slaughterhouses in the U.S. This prohibition is also in the Senate Agriculture Appropriations bill.
 
Preventing Pig Suffering: Critical language to prevent pig slaughterhouses from unlimited increases in pig slaughter speeds. Faster slaughter will lead to greater animal suffering and endanger worker safety and our food supply.
What You Can Do
The House and Senate are now in negotiations to determine what goes into the final funding bill, so please act quickly. Use the form below to send your representatives in Congress a message urging them to include the current animal welfare provisions from the House version in the final appropriations package.
Thank you!