USA: Support Animal Welfare Provisions in Appropriations Legislation!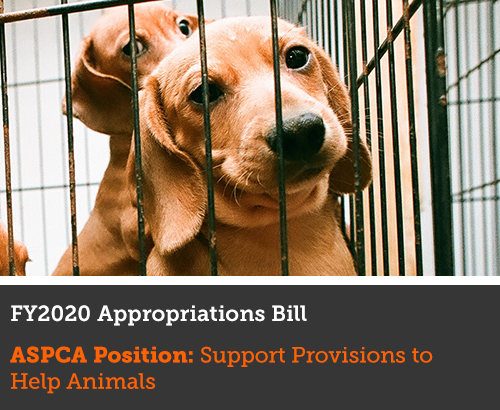 Update—August 23, 2019: Measures to protect animals are advancing in Congress—but we still need your help. In June, the U.S. House of Representatives passed a package to fund the federal government, including the U.S. Department of Agriculture (USDA), the Interior Department and the Department of Justice. Now, the Senate is working on its own Appropriations bills and will be considering the animal welfare measures from the House bill. We need your voice to ensure that pro-animal provisions remain in the final bills.
The House package (H.R. 3055) contains major victories for animals, including:
Agriculture Division:
Puppy Mills and Horses: Requirements that the USDA repost all Animal Welfare Act (AWA) and Horse Protection Act (HPA) inspection and enforcement reports that were formerly available on its website, and post new reports going forward. The Senate can strengthen this language by ensuring that USDA inspectors are recording all violations of the AWA on inspection reports.
 
Horse Slaughter: A prohibition on funding for the operation of horse slaughterhouses in the U.S.
 
Horse Soring: Increased funding to enforce the HPA, a law aimed at preventing the cruel practice of "soring," the use of painful chemicals and devices to inflict pain in horses to compel an exaggerated, high-stepping gait.
 
Pets and Victims of Violence: New funding to implement the PAWS Act, helping domestic violence victims and their at-risk pets.
 
Preventing Pig Suffering: Critical language added by Reps. Rosa DeLauro (D-CT) and David Price (D-NC) to prevent pig slaughterhouses from unlimited increases in pig slaughter speeds. Faster slaughter will lead to greater animal suffering and endanger worker safety and our food supply.


Interior Division:
Protections for Wild Horses: A prohibition on funding for the Bureau of Land Management (BLM) to kill healthy horses and burros or sell them to slaughter. For the first time, the bill also includes a new provision to prevent the U.S. Forest Service from killing healthy horses and burros or selling them to slaughter.
 
Non-Lethal Wild Horse Management: Adoption of a long-term, humane management approach that will shift the BLM's focus to on-range   fertility control and disallow lethal methods like killing for population reduction or selling horses and burros to slaughter. This language specifically requires BLM to follow comprehensive welfare rules during all management actions.
 
Agriculture & Commerce, Justice, and Science Divisions:
Cracking Down on Animal Fighting: Two amendments offered by a bipartisan group of lawmakers would encourage the USDA's Office of Inspector General (OIG) and the Department of Justice (DOJ) to investigate and prosecute more animal cruelty crimes, including animal fighting crimes. The Stevens Amendment #85 would encourage the DOJ to investigate and prosecute more animal cruelty crimes, and the Neguse Amendment #116 would encourage USDA's OIG to prioritize animal fighting investigations.
 
What You Can Do
The Senate might begin considering these bills as soon as September 9, so please act quickly! Use the form below to quickly send your senators a message urging them to include the current animal welfare provisions from H.R. 3055 in the Senate bills.
Thank you!