Vermont: Support Welfare-Certified Farming!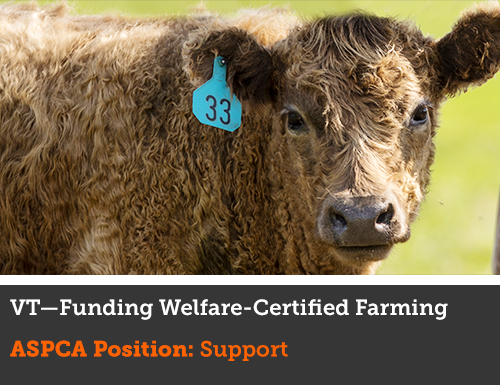 The Vermont Senate Agriculture Committee is currently considering an initiative that would ensure that Vermont farms and businesses looking to meet animal welfare certification standards have access to Working Lands Enterprise Initiative (WLEI) funding.
The WLEI supports Vermont's farm and forestry businesses through technical and financial assistance to help growing businesses thrive. In 2018, over $750,000 was awarded through this program to support Vermont's rural economy.
Meaningful animal welfare certifications prohibit the worst practices used on some farms, including caging and crating, while ensuring that animals are able to carry out their natural behaviors. Welfare-certified products make it easy for consumers to identify higher-welfare options in the marketplace and help more humane farmers reach welfare-conscious consumers. The demand for welfare-certified products is growing both inside and out of Vermont, and we need to help Vermont's farmers meet that demand.
More welfare-certified farms in Vermont means better lives for farm animals, better markets for farmers, and a more transparent, humane food system.
 
What You Can Do
Please take these quick actions today:
Place a quick, polite phone call your state senator and state representative and ask them to support funding for animal welfare-certified farming through the Working Lands Enterprise Initiative (WLEI). If you don't know who represents you, you can find your state legislators' names and phone numbers here. If you are a constituent of Senator Hardy, Pearson, Pollina or Starr, please thank them for including WLEI funding in the Senate Agriculture Committee's rural development bill!
 
Use the form below to send a follow-up email to your state legislators with the same message of support.
Thank you, Vermont!