USA: Don't Let the Farm Bill Roll Back Animal Welfare Protections!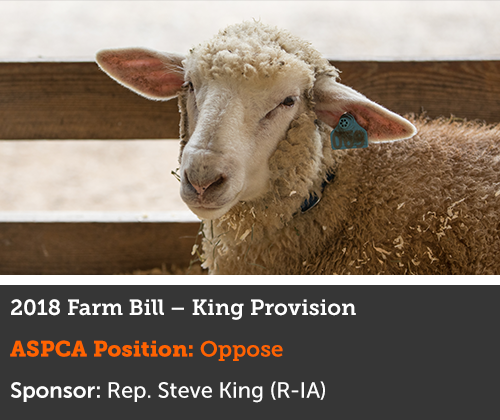 Update—June 28, 2018:  The Senate passed its version of the Farm Bill by a vote of 86-11.  Thankfully, the Senate bill does not contain the King Provision. The House and Senate must now reconcile their different bills and vote again on final passage. Contact your U.S. representative and senators and urge them to oppose this dangerous provision while Congress debates a final Farm Bill. Please see action steps below.
Dangerous language inserted into the House's version of the Farm Bill threatens animal-protection laws across the country and puts many hard-fought legislative victories for animals in jeopardy. The King Provision, or the so-called "Protect Interstate Commerce Act," seeks to strip states and localities of the ability to pass and enforce laws regarding the production of any "agricultural products"—a term so broad that it includes not only farm animals like cows and pigs, but also potentially dogs in puppy mills.
If enacted, thousands of critical animal welfare laws could be nullified. Laws against cruel gestation crates, battery cages, and even bans on horse slaughter and eating dogs and cats could be in jeopardy.
This language in the House's Farm Bill is an unprecedented assault on the historic power of states to enact laws that reflect the values of their residents, including the protection of animals.
 
What You Can Do
Your members of Congress need to hear from you right now. Use the form below to send a follow-up email to your U.S. representative and senators with a message of opposition.
Thank you, America.