USA: Congress Strips Farm Bill of King Amendment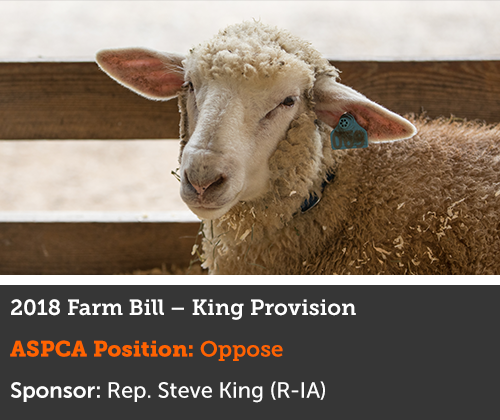 Update—December 11, 2018:  Great news, advocates! The Senate and House released its final language for the 2018 Farm Bill without the King Provision. By stripping this measure from the final bill, Congress chose to protect the ability of states to pass animal-protection laws. Learn more about the important victories made for farm animals in the 2018 Farm Bill by reading our latest News Post here.
Dangerous language was inserted into the House's version of the Farm Bill threatens animal-protection laws across the country and puts many hard-fought legislative victories for animals in jeopardy. The King Provision, or the so-called "Protect Interstate Commerce Act," sought to strip states and localities of the ability to pass and enforce laws regarding the production of any "agricultural products"—a term so broad that it includes not only farm animals like cows and pigs, but also potentially dogs in puppy mills.
If enacted, thousands of critical animal welfare laws could have been nullified. Laws against cruel gestation crates, battery cages, and even bans on horse slaughter and eating dogs and cats would be in jeopardy.