USA: Don't Let Lawmakers Roll Back Animal Welfare Protections!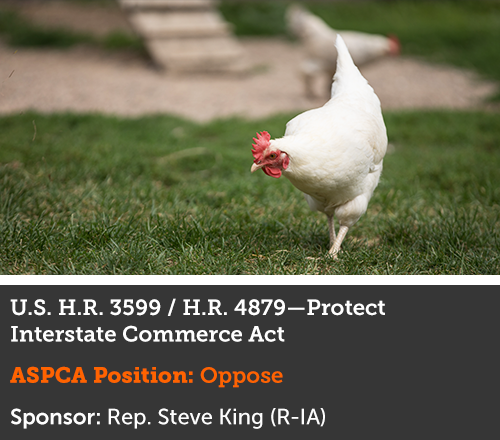 In January 2018, Rep. Steve King (R-IA) introduced a new version of his so-called "Protect Interstate Commerce Act." Though innocently named, this legislation actually threatens animal-protection laws across the country and puts many hard-fought legislative victories for animals in jeopardy.
This dangerous legislation, almost identical to the dreaded "King Amendment" introduced in the 2014 Farm Bill, would strip states of the ability to pass and enforce laws regarding the production of any "agricultural products"—a term so broad that it includes not only farm animals like cows and pigs, but also potentially dogs in puppy mills.
If enacted, much-needed improvements in animal welfare standards passed at the state level could be nullified. Laws against cruel gestation crates, battery cages, and even bans on horse slaughter and eating dogs and cats could be in jeopardy. Not only would existing laws be in danger, but states would be prevented from passing new laws to protect farm animals.
The Protect Interstate Commerce Act is an unprecedented assault on the historic power of states to enact laws that protect the health and welfare of animals.
 
What You Can Do
Please act quickly: This provision is likely to be debated in the coming weeks when the U.S. House of Representatives begins its work on the next Farm Bill. Animals are counting on your support. Your Member of Congress needs to hear from you right now how dangerous this bill is for animals. Use the form below to contact your representative in Washington, D.C., to tell him or her to oppose the Protect Interstate Commerce Act.!
Thank you, America.