USA: Ban Horse Slaughter!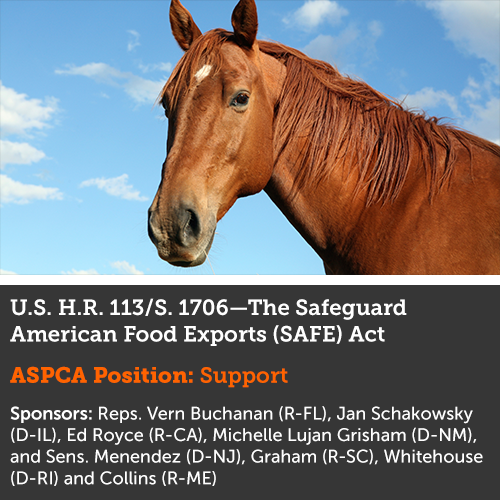 The Safeguard American Food Exports (SAFE) Act, which would prevent the cruel horse slaughter industry from establishing operations in the U.S. and prohibit the export of American horses for slaughter abroad, was introduced in the U.S. House of Representatives and the U.S. Senate in 2017.
We are within striking distance of a critical number of cosponsors. The bill already has strong bipartisan support, but it's vital that past cosponsors sign on again. We also need to educate first-term members of the House and Senate about the issue of horse slaughter and the importance of finally banning this cruel practice once and for all. 
You know horse slaughter is a cruel, unnecessary, predatory industry. But what you may not know is that the effort to ban slaughter through a federal bill is now more than a decade old. Each year that passes without a ban sees more than 75,000 American horses shipped over our borders to be butchered for human consumption. Enough is enough.
The
SAFE Act (H.R. 113/S. 1706)
would end this cruel practice by prohibiting the slaughter of horses for human consumption in the U.S. and banning their export abroad for that purpose. Every horse is just one bad sale away from slaughter. Until a federal ban is in place, no horse is safe.
What You Can Do
Using the form below, please take a moment to send an email to your U.S. representative and senators and urge them to cosponsor and support the SAFE Act. If your member of Congress has already signed on to be a cosponsor, our system will instead generate a message of thanks.

You may click on "view all possible messages" to view our pre-drafted text before authorizing it to send.
On behalf of America's horses, thank you!