Maryland: Make Dogs and Cats Used in Testing Available for Adoption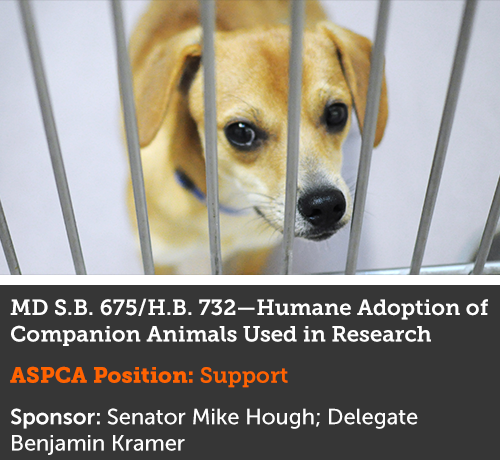 All dogs and cats deserve the chance to live out their lives in loving homes but that is often not the case for the many who are used in research.
Maryland doesn't currently require research institutions to make the hundreds of dogs and cats used by laboratories available for adoption once their time in research is over. Once they are no longer needed for research, it is common practice for facilities to euthanize these otherwise healthy animals rather than seek out loving and adoptive homes for them.

According to a recent report from the U.S. Department of Agriculture, over 1,000 dogs and 60 cats were used in research facilities across Maryland in just one year alone. There are thousands of people willing and able to adopt these animals, so there is no reason not to afford dogs and cats a chance at normal lives once they are no longer needed for research.
The Humane Adoptions of Companion Animals Used in Research Act of 2018 (S.B. 675/H.B. 732) would require institutions work with willing animal rescue organizations to place dogs and cats in homes at the conclusion of testing.
What You Can Do
Our records indicate that you have a state senator or delegate who serves on one of the committees that will consider this bill as soon as

Tuesday, February 27

. It is critical that your legislators hear your voice of support right now, so please take these two quick and easy actions today.
Place a quick, polite phone call to your state legislators in Annapolis and urge them to support S.B. 675/H.B. 732. If you don't know who represents you in the General Assembly, you can find their names and phone numbers here.
 
Then use the form below to send a follow-up email to your delegates with the same message of support.
Maryland's vulnerable research animals are counting on you. Thank you.