Massachusetts, Puppies and Kittens Need You!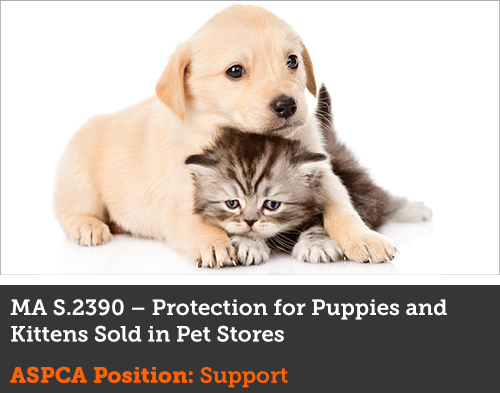 Update—August 22, 2016: S.2390 passed in the Senate but, unfortunately, died in the House before the end of session. Thank you to all of you who made your voices heard on behalf of this important bill. We hope you will continue to stand with us as we fight for Massachusetts' vulnerable animals in 2017.

S.2390 is state legislation that would have improved the current climate of pet sales in Massachusetts by requiring in-state and out-of-state breeders supplying Bay State pet shops to meet basic standards of care. It would also have allowed families who unknowingly purchase a sick puppy or kitten to receive reimbursement of up to 150% of the animal's cost, protecting Massachusetts consumers from heartbreak and financial toll.
Specifically, the bill aimed to protect Massachusetts animals and consumers in four ways:
1. Prohibit the sale of puppies and kittens under eight weeks of age;
 
2. Improve the Massachusetts' "Puppy Lemon Law" to better protect and provide recourse for families who unknowingly purchase a sick puppy or kitten;
 
3. Require the Massachusetts Department of Agricultural Resources (MDAR) to promulgate rules and regulations for certain breeders;

4. Ensure that out-of-state breeders meet the same minimum care standards as will be required for in-state breeders. It will also prevent the sale of puppies and kittens from breeders who have had a significant violations under the federal Animal Welfare Act (AWA).
These crucial regulations of breeders and pet sales would have immensely improved the welfare of the puppies and kittens sold in our communities.