URGENT: Iowa, Protect Consumers and Hens!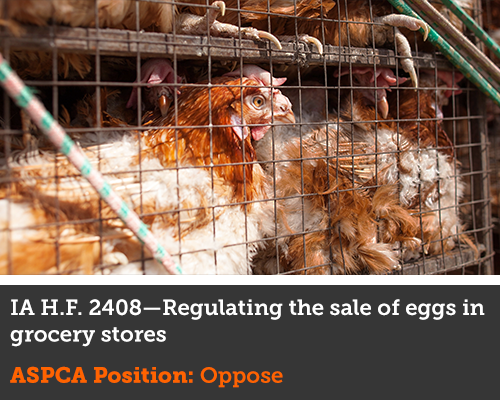 Update—April 18, 2018: Governor Reynolds signed H.F. 2408, legislation would make it illegal for grocery stores to implement their commitments to improving animal welfare and food safety. Thank you to everyone who spoke out against this inhumane bill.
Iowa's State Legislature has passed a dangerous bill that could hurt animals, expose consumers to harmful diseases and promote cruel farming practices. The bill now is now heading to the Governor's desk, and we need your help to stop her from signing it into law. Make your voice heard and tell Governor Reynolds to veto this harmful bill!
House File 2408 would force Iowa grocery stores to sell "conventional" eggs that come from chickens confined in battery cages. These inhumane, barren, wire crates cram birds together so tightly that they can't even spread their wings.
Battery cage eggs aren't just cruel—they also put public and consumer safety at risk. Over a dozen scientific studies have linked battery cage operations to an increased risk of Salmonella, and the U.S. Food and Drug Administration (FDA) estimates that 79,000 illnesses each year are caused by consuming eggs contaminated with the bacteria.
Leading grocers such as Walmart, Costco and Dollar Tree have recognized the threat these operations pose to their consumers and the cruel nature of this practice, and have pledged to stop selling battery-cage-raised eggs by 2025.