Florida: Protect Your State's Pets and Vets!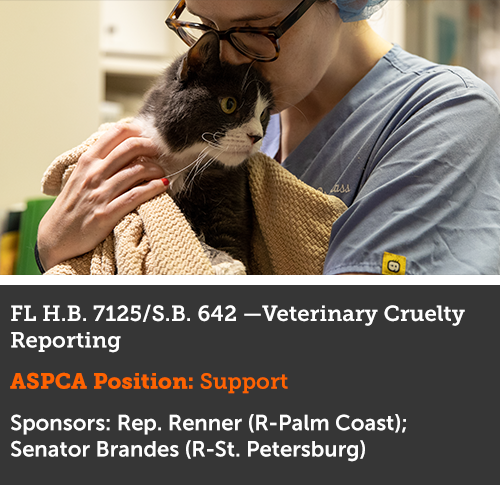 Update—May 15, 2019: Great news, advocates. This bill was passed by both chambers and now is with Governor DeSantis for his signature into law. Please see action steps below!
Veterinarians are often the first to detect potential cases of animal cruelty and neglect. A recent study found that 87% of veterinarians had encountered cases of animal abuse. (J Am Vet Med Assoc 2017;250:688–696)
Veterinarians swear an oath to "relieve animal suffering" when they enter their profession. But Florida's law actually prohibits veterinarians from reporting or discussing a patient's condition without facing serious disciplinary and legal risk, making it nearly impossible for them to uphold this oath when they witness suspected animal abuse.
Their ability to report potential cruelty cases without risking their careers is crucial to protecting animals from potentially life-threatening situations.
 
What You Can Do
The Florida State Legislature passed this important bill to protect your state's animals and veterinarians and now we need your help to urge your Governor to sign it into law. 
Please use the form below to contact Governor DeSantis and urge him to sign H.B.7125/S.B.642 into law.
Thank you, Florida!