Florida: Don't Let Puppy Mills Make Rules for Your Community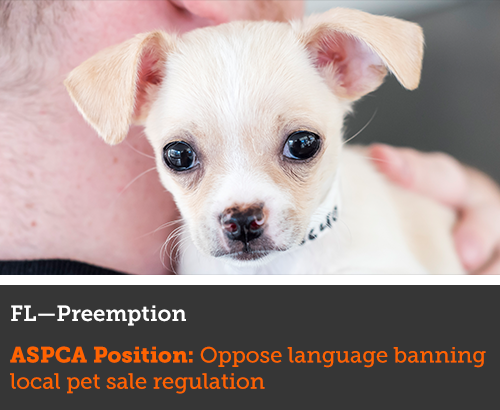 Update—May 5, 2019: Great news, advocates! The amendment was withdrawn and the Florida Legislature adjourned without passing preemption. Thank you to all of you who spoke up in the final hours!
Legislation is pending Florida State House that could have disastrous consequences for consumers, local governments and dogs.
As you may know, most puppies sold in pet stores come from puppy mills. These breeding facilities prioritize profit over the health and welfare of animals, and dogs owned by these operations are often kept in overcrowded and unsanitary conditions without adequate veterinary care, food, water or socialization.
That's why nearly 300 localities across the nation—including 66 in Florida—have enacted their own local laws to keep cruelly bred puppies out of their pet stores. These local laws are crucial to reducing the demand for cruelly sourced pets.
H.B. 7123 contains harmful language that could invalidate these local laws and strip all Florida cities and towns of their authority to enact similar bans, leaving more dogs to suffer in squalid conditions.