D.C., Fight Discriminatory Pet Policy!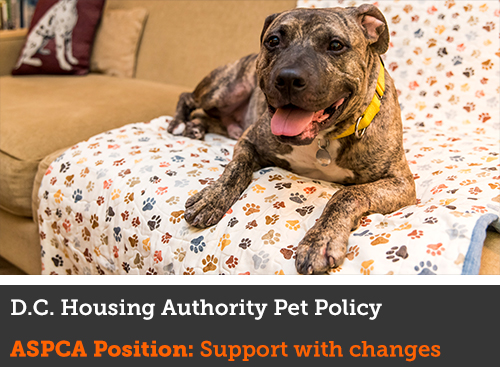 Update—February 13, 2017:  Because advocates like you spoke up, the DC Housing Authority made several improvements to its final policy, including increasing the size restrictions for dogs to a maximum of 40 pounds and 20 inches. While this new policy will now allow pets in senior and disabled public housing units for the first time in over a decade, it won't apply to a residents in a majority of DCHA properties. We want to thank you to all of you who made your voices heard on this important issue, and we hope you will stand besides us as we continue to fight for residents excluded from this policy.

The saying goes, "If you want a friend in Washington, get a dog." But for over 10 years, the D.C. Housing Authority (DCHA) has denied the right of pet ownership to its residents. This is illegal; federal law guarantees residents of public housing the right to keep a pet.
At the urging of the ASPCA and the Humane Rescue Alliance, DCHA has finally proposed a pet policy, but it doesn't pass muster. The policy would permit pets in only 18 out of DCHA's 56 properties. And while we're glad that the policy does not restrict any particular breeds by name, it does mandate that dogs be no taller than 15 inches and weigh no more than 40 pounds. These arbitrary size restrictions mean that residents of D.C. housing won't be able to adopt most dogs in the city's shelters, who tend to be medium or large.

An increasing number of luxury residences in the District offer pet-friendly accommodations. DCHA is denying its residents the countless benefits to health and wellbeing that flow from the companionship of animals. DCHA tenants should not be treated differently than other citizens in D.C.