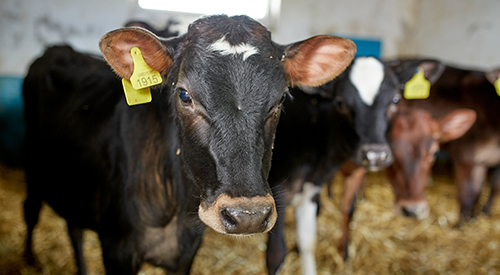 2023 Farm Bill
ASPCA Position: Support Pro-Animal Provisions
Congress is preparing to work on the 2023 Farm Bill, and we need your help to make sure they use this opportunity to benefit animals!
Renewed every five years, the Farm Bill identifies national agricultural priorities and reaffirms the responsibilities of the U.S. Department of Agriculture (USDA). Critical animal welfare matters like protecting horses, preventing puppy mill cruelty and building a more humane system for farm animals come up in this bill.
Congress can include life-changing protections for animals, including Goldie's Act, which would help dogs in puppy mills and other commercial animal facilities, and the Farm System Reform Act, which offers a roadmap for a better world for farm animals. But to make this happen, they need to hear from you.
What You Can Do
Please complete the form below to email your members of Congress, urging them to include measures to protect animals in the 2023 Farm Bill. Your message today can make a difference.
On behalf of America's animals, thank you for using your voice!
View Message
Subject Line:
Support Measures To Protect Animals In 2023 Farm Bill
Dear Legislator,
I write to urge you to support important measures to protect animals in the 2023 Farm Bill, thus helping the U.S. Department of Agriculture (USDA) fulfill its designated role of upholding animal welfare. I care deeply about ensuring the humane treatment of animals and the Farm Bill is an opportunity to make needed improvements to existing policies that are failing to protect animals, including our companion animals, equines and farm animals.
These include policies created under the Animal Welfare Act, which desperately need to be overhauled to align with the law's stated purpose. It is also an opportunity to build a more humane, just and sustainable food system that values the well-being of individual animals and creates a level playing field for independent higher-welfare farmers, rather than prioritizing the profits of large animal agribusinesses. As Congress continues its work to negotiate an equitable, climate-friendly 2023 Farm Bill that helps farmers, consumers, and the American public, I urge you to help animals by supporting the inclusion of the following provisions:
Include the Farm System Reform Act and other provisions to build a more humane, just, and sustainable food system.
• The 2023 Farm Bill provides an avenue to build a better food system. For decades, existing policies have propped up large animal agribusinesses--harmful polluters that profit from animal cruelty, poison communities, and quash competition from independent family farmers. Farm Bill policies can help enable a shift away from a cruel system that enshrines corporate greed towards a more humane and fair system that holds animal agribusinesses accountable for their harmful practices. Congress should start by investing in farmers engaged in higher-welfare practices and ending corporate cruelty to farm animals. Additionally, Congress can fund the transition to a more humane, transparent food system by including provisions of the Farm System Reform Act (FSRA) in the 2023 Farm Bill. Please use the Farm Bill as an opportunity to pass the FSRA and other provisions to hold multinational animal agriculture corporations accountable for the harms they inflict on animals, farmers and the environment.
Include Goldie's Act to help dogs in puppy mills.
• The USDA's Animal Plant and Health Inspection Service (APHIS) is failing to enforce the Animal Welfare Act (AWA). Congress passed the AWA in the 1960s to crack down on animal cruelty at commercial animal facilities. Unfortunately, APHIS has ignored documented patterns of abuse at licensed animal businesses and chosen not to enforce the law against violators. The agency has failed to enforce the law even when inspectors have witnessed and recorded hundreds of direct violations of the law and resulting animal suffering and even death. Dogs held in these facilities to produce puppies that are sold to pet stores, for research or over the Internet have suffered and died under the current system. Despite observing hundreds of violations and welfare problems, the USDA has imposed no penalties against any licensed commercial dog dealers since 2017. APHIS's lenient attitude towards the regulated community has resulted in a failed regulatory scheme under which violators continue to do business as usual without penalty, and animals continue to suffer. Goldie's Act—named after an emaciated golden retriever who died in a USDA-licensed puppy mill, even though USDA could have intervened to help her—would address these deficiencies by requiring more frequent inspections, proper citations of violations, and the use of enforcement mechanisms already provided for under the law, including issuing civil monetary penalties, notifying state, local and municipal authorities of animal cruelty, and suspending or revoking licenses. Please advocate for the inclusion of this important legislation in the 2023 Farm Bill to ensure that dogs and other animals receive the protections they deserve under the Animal Welfare Act.
As your constituent, I urge you to support pro-animal welfare measures in the 2023 Farm Bill. Thank you for your attention to these critical issues.
Sincerely,